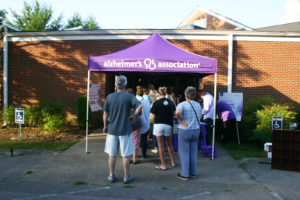 BPC CARES is an outreach of Bellevue Presbyterian Church that began in 2013 as part of the Pastor's Lenten challenge.* Since that time, BPC CARES has participated in the Alzheimer's Association The Longest Day® event, raising money from 7:00 a.m. to 7:00 p.m. typically on the longest day of the year, June 21.
To date, BPC CARES has raised over $45,000 with more than $40,000 of the proceeds being donated to Alzheimer's research and the rest added to the BPC CARES fund to further their mission to provide for Alzheimer's research, education and support—such as the Bellevue Support Group at The Barton House every third Thursday.
In addition BPC CARES has sponsored Alzheimer's education presentations for the community. They have used artwork created by people living with Alzheimer's to design and sell note cards as a fundraiser. And they have purchased an extensive set of informational books on Alzheimer's and other dementias that are available for anyone to borrow from the church resource center.
Our newest public service is to provide one day a week of The Sunny Day Club for those living with the early stages of dementia and their caregivers. We hope to begin in September of 2016 and we will post information here and on our church website.
Our fourth best Longest Day Family Festival was held Saturday, June 18, 2016. We raised $17,000+ (and still counting) before expenses. Our donation to The Alzheimer's Association will be in excess of $14,000. And with that money and all the money raised during The Longest Day we hope to be a part of the cure.
Bellevue Presbyterian Church is located at 100 Cross Timbers Drive in Nashville, TN, 37221.
• In 2013, Rev. Kristi Shay Moore, pastor of Bellevue Presbyterian Church in Nashville, Tennessee issued a challenge. She gave seven groups $100 each to "pay it forward." The challenge was to the congregation to join one of those groups to become "The Biggest Loser." According to Rev. Moore," the call of Christ is losing ourselves for others so we gain Life by becoming 'big losers.' The seven groups were made up of all ages, from an elementary Sunday School class to the high school youth group and several adult groups. The BPC CARES group came up with a logo and theme that spelled out their mission "BPC Cares about Alzheimer's Research, Education and Support. The group was spurred on by one of their own who was living with Alzheimer's and his Caregiver. To date, the group has grown that $100 to more than $45,000 and continues to grow through the Alzheimer's Association's Longest Day event.